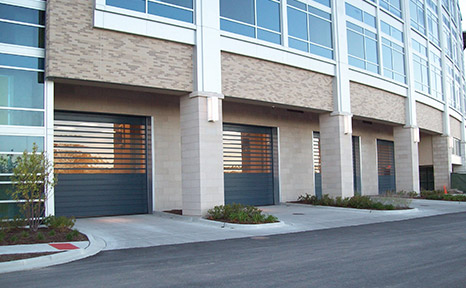 Spiral
Fastest and safest rigid door in the world
High-Security
Rigid, aluminum slat construction and optional, integral locking system provides unparalleled security.
Fast
Opens at up to 60 inches per second for improved traffic flow.
Whisper Quiet
The unique Spiral roll-up design features no metal-to-metal contact, therefore offering whisper-quiet operation.
High Performance
The variable speed AC Drive system with soft acceleration and braking smooths out routine stops and starts, virtually eliminating the clunking gear engagements you associate with typical overhead door operation.
Energy Efficient and Tight Seal
Aluminum slats, along with a durable rubber membrane, which covers their aluminum connecting hinges, provide a 100% seal against dust pollution, drafts, and inclement weather. Optional insulation simply adds to the energy savings.

Fast-Seal
High speed door with door down break-away
Fast
Opens at up to 50 inches per second.
Safety
Dual electric photo eyes inside column and reversing edge in bottom bar. Optional, replaceable windows for visibility.
Takes a Hit
Patented Break-Away bottom bar repairs without tools in just seconds, virtually eliminating door down time.
Tension system
Patented, independent design separates counterbalance from door tension permitting effective break away and the ability to handle high wind loads and negative pressure.
Full Tension
Patented System design provides proper counterbalance and tension at all times.
Low Maintenance
System design comes with a lifetime warranty on all counterweights and tension springs.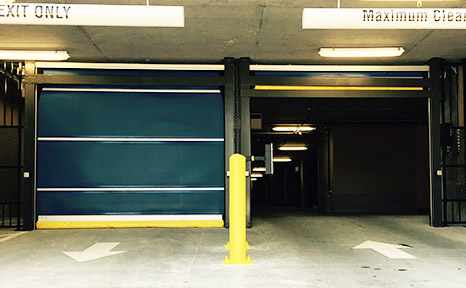 PredaDoor
High speed doors for interior and exterior use
Fast
Opens at up to 50 inches per second for improved traffic flow and energy conservation.
Safe
Full-width vision panel, two sets of thru-beam photo eyes and a pneumatic reversing edge are standard. Optional light curtain reverses the door without physical contact.
Takes a Hit and Resets
The NXT Quick-Set repair system permits the operator to reset the door with the push of a button after aligning the bottom bar.
Reliable Wireless Safety System
State-of-the-art wireless system eliminates the need for a coil cord on the bottom bar. Two-way transmitters and receivers eliminate interference.
System Controller
Using only three buttons, the door is easy to setup, operate and maintain. An integrated AC Drive provides soft acceleration and deceleration.
Durable Fabric Panel
Standard replaceable vinyl panel sections available in a variety of colors. Optional rigid, 2-ply and 3-ply Rilon available.
Wind Resistance
Panel ribs provide resistance to wind and negative pressure.